Seller's Description:



GENEVA GOLD-TONE
"U.S.S. CONSTITUTION"
CLASSIC POCKET WATCH

ANTIQUED GOLD ~ QUARTZ MOVEMENT
14" WATCH CHAIN INCLUDED

*** BRAND NEW ***
Up for your consideration is this nicely crafted Gold-Tone "U.S.S. Constitution" pocket watch with matching watch chain! These fancy gentleman's watches are made by Geneva under the Montres Carlo brand name. Beautifully 3-D embossed front cover portrays the American Heavy Frigate U.S.S. Constitution under full sail. Rear cover features an engraved Victorian floral design typical of the late 1800's. White dial with a sweep second hand and standard Arabic numerals. All the style and beauty of a Victorian-era timepiece with the ease and convenience of modern battery-powered quartz PC21S movement made by Seiko-Epson - no winding necessary. This quality quartz pocket watch comes complete with 14" matching gold-tone watch chain, fresh battery and a full one year limited warranty.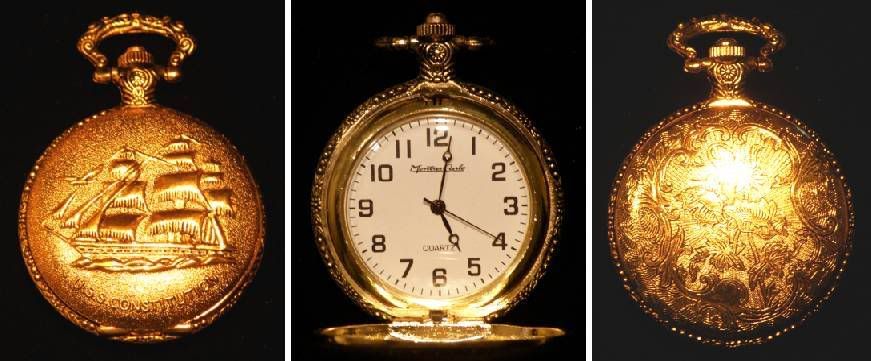 If you are into Cowboy Action Shooting or Old West reenactments, step back into another time with a period-oriented accessory piece that will add flash, color and a bit of elegance to your cowboy or 1800's era persona. A visible accoutrement that supports the period authenticity of your outfit!! Dangle this handsome pocket watch and chain on your vest and become that dapper Old West gentleman of days gone by.
Matching 14" Gold-Tone Chain Included
This is a BRAND NEW WATCH, and carries a one year manufacturer's warranty. The going price for these watches at most Old West or Reenactment stores is from $29.99 to $49.99!! OK Cowboys.....here's your chance to add that classic finishing touch to your outfit at a bargain price!!

Payment and Shipping Instructions:
Winners pay a flat rate of $5.95 S&H anywhere in the USA, including Alaska & Hawaii. This INCLUDES DELIVERY CONFIRMATION AND INSURANCE. Please allow up to three days handling time for processing your order. All shipments are made via USPS Priority Mail on Tuesday and Friday mornings, (UPS is NOT an option.) Payment by money order, cashier's check or PayPal is preferred and will assure prompt shipment. We accept Visa, MC, Amex, Discover and E-Checks via PayPal. Our PayPal account ID is [email protected] Personal checks are also welcome, but will delay shipment 10 business days to allow for check clearance.
NO INTERNATIONAL SALES!!! Our experience with the international postal systems shows an increasing rate of extremely slow delivery times, high shipping costs, lost packages and damaged merchandise, all of which leads to a poor transaction experience for our valued customers. For these reasons, we will no longer accept bids from customers outside the USA. If you do not reside in the USA, or if shipment is to an address outside the USA. . . . PLEASE DO NOT BID!! International buyers that ignore these terms will be reported to auction management for rules infraction and will receive immediate negative feedback!!
If you have any questions, please feel free to e-mail us PRIOR to bidding at [email protected] Thanks very much for your interest and for your bid. Good luck and good fishin', huntin' and shootin'!!
Payment Methods:

Money Orders, Personal Checks, Cashiers Checks,

Ships Using: